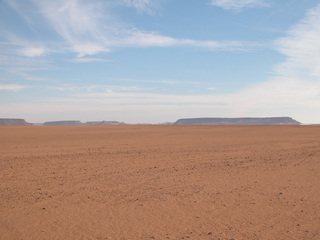 (visited by Giorgio Fiorentino, Fabio Scanferla, Marco Scanferla, Emilia Lombardi, Massimo Scanferla, Roberto Cappi, Maurizio Ferri, Matteo Maldini, Luca Maldini, Luigi Varani, Fabio del Giudice, Caterina Maiocchi, Achille de Dominicis and Valeria Artioli)
03-Jan-2007 -- Continued from 28N 25E.
Confluence nr. 3
On Wednesday, 3 January 2007 at 14:30 we joined the crossing between meridian 25° and parallel 25°. This Confluence too is along the borderline between Libya and Egypt, an endless espanse sorrounded by rocky buttresses, on the way to the Kabīra meteor crater (see satellite photo), and reaching it has been an amazing experience. On the way there we crossed 2 wādiys (prehistoric riverbeds) and we drove in them for a while. Once we got there we found a nice surprise: a few steps away from the Confluence point there was a barrel holding a double sided sign: on one side the word Libya, and on the other side the word Egypt! Finding this barrel and to realize the meaning of it was one of the most touching moments of the travel.
Continued at 23N 24E.