Quality: good
{ Main | Search | Countries | Information | Member Page | Random }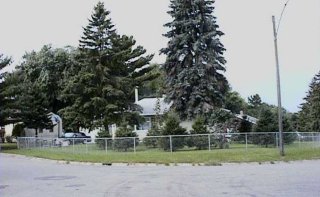 (visited by Scott Armitage)
30-Aug-2000 -- When browsing through the listing of confluences on this web site, one notices how few confluences in the U.S. are inside of urban areas. Even though most Americans live in cities, the land use of the country is still primarily rural or undeveloped. This confluence is one of the exceptions. It is located in a residential area of St. Paul about 5 miles northwest of downtown St. Paul. The actual confluence point is located in the middle of the front lawn shown in the picture.
All pictures
#1: 45N, 93W (St. Paul, MN)
ALL: All pictures on one page
Notes
Take Exit 55 off of I-694. Go west on SR 5/SR 212/34th St. N for 1.3 miles until the road comes to a T. Turn right onto SR 120/Geneva Ave. N, and go 0.1 miles. Take the next left, Holloway Ave., and go 0.73 miles to the intersection with Lakewood Dr. to the south and Polaris Place to the north. You may now go 234 feet north on Polaris Place, and then 219 feet west to the confluence, or 117 feet further west on Holloway Ave., and then 223 feet north to the confluence.