20.0 km (12.4 miles) NW of Kalka Homeland (SA), WA, Australia
Approx. altitude: 647 m (2122 ft)
([?] maps: Google MapQuest OpenStreeMap ConfluenceNavigator)
Antipode: 26°N 51°W
Quality: good
{ Main | Search | Countries | Information | Member Page | Random }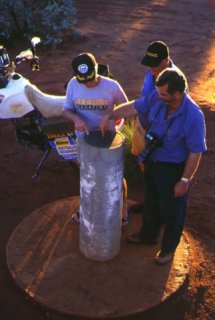 (visited by John Bylund)
21-May-1998 -- Fewer people have been to the Surveyor General's Corner than to the South Pole. It is the point at which Western Aust., South Aust. and the Northern Territory meet. However due to an early surveying error (lack of a chronometer in the early 1920's) the WA border to the north is out of line with the border to the south by about 120m. There are actually two posts to mark the realignment which was agreed to by the Surveyors General of each state. The WA border follows the 129th longitude.
All pictures
#1: Surveyor General's Corner, WA/SA/NT, Australia
ALL: All pictures on one page
Notes
Surveyor Generals Corner, the triple boundary point between Western Australia, Northern Territory, and South Australia is located about 240 m NE of the Confluence.